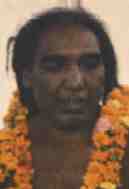 Site
Contents:


YOGA BOOK
YOGA GURU SRI TAT WALE BABA -
RISHI OF THE HIMALAYAS
Vincent J. Daczynski
(Runterrollen für die Deutsche Übersetzung)
---
Chapter 5 (cont.)
Sweet Memories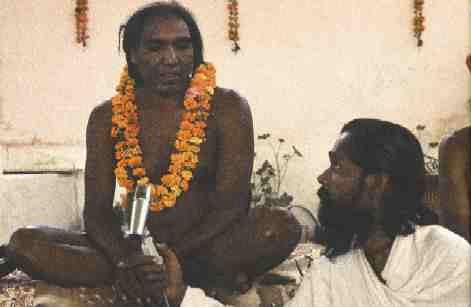 Sri Tat Wale Baba, about age 80, answers questions.
Maharishi Mahesh Yogi interjected,"The thing is very important which he says now!"

That which is omnipresent doesn't have to be sought. It's there already. Start to be. That which is omnipresent is not to be sought; only our awareness has to be brought to that level and that bliss is there. You don't have to seek it. Understand? Unless we get into that omnipresent bliss, satisfaction is not going to come. If it were to come, it would have come by now through so many avenues in the world. But, it has not. Therefore, that which is the Self is your own being.You don't have to look in the outside. And, it is irrespective of any religious faiths or beliefs; Christians or Mormons or Hindus. That being is the knowledge itself. Only, you have to know. All these various manifestations of happiness that we experience in the world, they also are the manifestations of the same eternal being which is our own Self. If we are aware of the Self, if we know it, fine. Otherwise, we have to be. And, therefore, it is necessary to bring our awareness deep within ourselves. As deeply as we can bring our awareness to the Self, so intensely we can inherit that which is omnipresent in our day to day life. Having known that Self we will be eternally contented; remaining in the world we will live contentment. And, it's not a matter of detaching ourselves from the world. Only, we have to know It, and having known It, then, all different manifestations in the world will be experienced as manifestations of That. We don't have to detach ourselves. It is just a matter of bringing the awareness to that area, and be, and live It.

Having gained this beautiful, perfect human nervous system, if we have known that element of the Self, then we have really used this wonderful diamond-like gift, this diamond-like nervous system which is capable of giving that eternal bliss. If it is not experienced, then we have wasted that gift of diamond. We have taken upon ourselves this human nervous system, not for the sake of petty enjoyment of changing nature in this relative field of change, but to live and be that infinite bliss. And, we will have to attain that thing whether we attain it in this life, or in the next, or in the next. We just can't forego that. Therefore, with the assistance of the guru and the scriptures, better to attain it quickly. Why postpone?



Tat Wale Baba's talk was followed by an opportunity for questions to be asked.

||

Back

||

To Chapter 6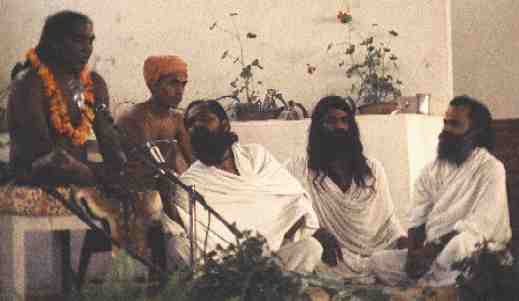 ---
Kapitel 5 Fortsetzung
Süße Erinnerungen
Maharishi Yogi unterbrach: "Was er jetzt sagt ist sehr wichtig!"
Das was allgegenwärtig ist muß nicht gesucht werden. Es ist schon da. Fang an zu sein. Das, was allgegenwärtig ist, muß nicht gesucht werden; nur unser Bewußtsein muß auf diese Stufe gebracht werden und der Segen ist da. Du mußt ihn nicht suchen. Verstanden? Bis wir in diesen allgegenwärtigen Segen gelangen, wird sich keine Zufriedenheit einstellen. Wenn sie kommen würde, wäre sie schon jetzt gekommen, auf so vielen Straßen in der Welt. Aber sie ist nicht gekommen. Darum ist das, was das Selbst ist, dein eigenes Sein. Du mußt nicht im Außen schauen. Und es ist unabhängig von irgendwelchen religiösen Überzeugungen und Glauben; Christen oder Mormonen oder Hindus. Dieses Sein ist das Wissen selbst. Du mußt nur erkennen. All die verschiedenen Manifestationen von Glück, die wir in der Welt erfahren, sind auch die Manifestationen des gleichen ewigen Seins, das unser Selbst ist. Wenn wir des Selbst bewußt sind, wenn wir es kennen, dann ist es gut. Ansonsten müssen wir sein. Und darum ist es notwendig, unser Bewußtsein tief in uns selbst zu bringen. So tief wir unser Bewußtsein zum Selbst bringen können, so intensiv können wir das wahrnehmen, was in unserem alltäglichen Leben allgegenwärtig ist. Wenn wir dieses Selbst erkannt haben, werden wir ewig zufrieden sein; während wir in der Welt bleiben, werden wir Zufriedenheit leben. Und es ist keine Frage davon uns von der Welt zu lösen. Wir müssen es nur erkennen, und wenn wir es erkannt haben, werden alle unterschiedlichen Manifestationen in der Welt als Manifestationen von dem erkannt. Wir müssen uns selbst nicht lösen. Es ist nur die Frage, unser Bewußtsein in dieses Gebiet zu bringen, und es zu sein und zu leben.

Nachdem wir dieses schöne, vollkommene menschliche Nervensystem gewonnen haben, wenn wir dieses Element des Selbst erkannt haben, dann haben wir dieses wunderbare, diamantgleiche Geschenk, dieses diamantgleiche Nervensystem wirklich genutzt, das in der Lage ist, uns ewigen Segen zu geben. Wenn es nicht erfahren wird, dann haben wir dieses Geschenk eines Diamanten verschenkt. Wir haben dieses menschliche Nervensystem nicht angenommen, für den eitlen Genuß veränderlicher Natur in diesem relativen Feld des Wechsels, sondern um diesen unendlichen Segen zu leben und ihn zu sein. Und wir müssen dieses erreichen, egal ob wir es in diesem Leben erreichen oder im nächsten oder im nächsten. Wir können das einfach nicht umgehen. Darum ist es besser, es mit der Hilfe des Gurus und der Schriften schnell zu erreichen. Warum es verzögern?
Der Rede Tat Wale Baba folgte eine Gelegenheit Fragen zu stellen.